Now in preparation: Antonio Valente, Intavolatura del Cimbalo, Napoli 1576 by Paola Erdas will issue in Spring 2020.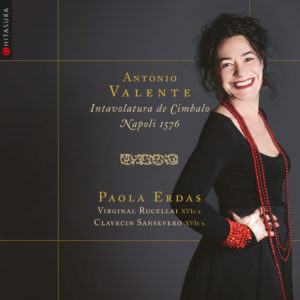 Subscribe now to this new release at the special price of 15€ for this CD which will be send as soon as printed, at the biginnig of Summer.
Your subscription will be supporting the work of an independent publisher. The discs will be sent out by us before their official release dates.
Read more about our Collections and our standard and exclusive editions >
By subscribing to this new release now you will be supporting our independently published work, and we will be pleased to have the opportunity to send you the copies you have ordered already at the end of summer, prior to the official release scheduled for September.
As with our concertos by Bach, and the Scarlatti series,  this opus will be available in three formats, beautifully designed by Ad van der Kouwe:
Standard Edition
Exclusive Edition limited edition of numbered and signed copies for the discerning discophile, distinguished by its wax sealed presentation.
We accept electronic payments through this website in addition to bank transfers to Hitasura Productions' bank account (details upon request) and French issued cheques. Recordings are dispatched once payment is received.
Our prices include shipping.
Special offer
With the purchase of three copies we offer an additional disc of Goldberg Variations, performed by Frédérick Haas in 2010 (a Dolce Volta disc).